EVENTS IN CELEBRATION OF

BIX'S MUSICAL LEGACY

Bix Beiderbecke Memorial Jazz Festival
Tribute to Bix
Annual Bix Birthday Bash
24-hour Birthday Tribute on WKCR
Yearly Birthday Tribute to Bix on KCSM
Bix Beiderbecke Legacy Stage Show
Gathering of August 6, 1999 in Front of Bix's Last Residence
Bix Vigil 2002
Bix Vigil 2003


Bix Vigil 2005


The JVC Jazz Festival
If Bix Played Gershwin
Bix, The Romance and The Reality
The Carnegie Hall Concert
The Second Carnegie Hall Concert
To Bix Or Not To Bix?
Salute to Bix


Tribute to Bix, Racine, March 2006.




Every year, several organizations pay homage to Bix's musical genius and legacy. The Bix Beiderbecke Memorial Society celebrates Bix's music with the Bix Beiderbecke Memorial Jazz Festival. Phil Pospychala honors Bix's legacy by organizing his Tribute to Bix. The Davenport Public Library throws a Bix Birthday Bash. Radio stations devote part or all of their programming on Bix's birthday to his music.

The Festival takes place every year during the month of July. The festivals began in 1972 and have taken place every year without interruption, even in 1995, the year of the big floods in the midwest. (LeClaire Park, one of the main venues of the festival, is located on the banks of the Mighty Mississippi and was under water). Several bands and hundreds of fans from all over the world gather to keep the memory of Bix alive and to celebrate his musical contributions to jazz. The bands play in three venues, two of them indoors - the Col Ballroom and the Davenport Holiday Inn - and one outdoors - LeClaire Park. On Saturday morning - and in my opinion, this is the climax of the Festival - there is a musical tribute in Oakdale Cemetery, at Bix's grave site. The 2000 Festival will take place July 20-23.

Every year since 1990, during the weekend in March nearest to Bix's birthday, Phil Pospychala and his gang present a four-day Tribute to Bix. The event takes place in Libertyville, Illinois and consists of live bands playing music related to Bix, a Bix seminar, sales and displays of Bix's records and memorabilia, rare jazz films by Ken Crawford, a mystery record contest, and special events. One such special event in 1991 was an Okeh record battle between Bix and His Gang and Armstrong's Hot Five & Seven; this was patterned after the famous 1926 Goldkette-Henderson battle of the bands at the Roseland Ballroom. The event was so successful, that the next year a battle was staged between the "Jean Goldkette" (Ralph Norton's Varsity Ramblers) and "Clarence Williams" (Roland Pilz's Jazz O'Maniacs from Hamburg, Germany) Orchestras. Among the bands that have performed in the past are Ralph Norton's Varsity Ramblers, Lino Patruno and His Bix Sound (from Italy), and Don Gibson's Original Sons of Bix. For 1999, the theme of the Tribute is the Original Dixieland Jazz Band.

Report on Tribute to Bix, March 9-12, 2000.
The theme of the tribute, as displayed in the registration buttons worn by all participants was "Cradle of Love".
I arrived late at night on March 9. Therefore, I missed the bus trip to the Historical Jazz Sites and the Cemetery Crawl (with visits to the graves of Johnny Dodds, Freddie Keppard and Frank Teschmacher).
Most of the day on Friday, March 10 was occupied by record sales. Between 3 and 4 p.m., John Schleffendorf presented an interesting and informative seminar on the Autograph Record label. John began his lecture with a brief introduction to the history of acoustic and electric recordings and then went into detail about Orlando Marsh, the Marsh Laboratories and the Autograph label. To illustrate some of the points he was bringing up, John played excerpts from his vast collection of 78 rpm records. I learned that the Marsh Laboratories were the first to make electric recordings. In the evening, the entertainment was provided, in the form of a one-man show, by the multi-talented Brad Kay, musician, performer, composer, raconteur. He played the piano, sang and told anecdotes. The audience was quite responsive and the enthusiastic applause was an indication of the approval by the audience of Brad's unique form of entertaining. Brad did something very interesting with two of the selections he played, "Sweet Sue" and "I'm More Than Satisfied". He sang note by note Bix's solos in the two recordings to his own piano accompaniment. I thought the effect was spectacular. Brad did something similar with Hoagy Carmichael's composition "Stardust". To his piano accompaniment, he sang note by note the melody line of the composition. I had known before, and this has been said by several jazz historians and critics, that Hoagy found his inspiration for "Stardust" in Bix's cornet solos. However, hearing Brad's presentation made me realize clearly and deeply that "Stardust" is basically a "Bix improvised (or perhaps a better word would be composed) solo". Following Brad, Ken Crawford showed films from his vast collection. There were several technical glitches that took quite a while to fix. Phil asked Brad to entertain the audience while the problems were fixed. Brad, with his characteristic generosity, obliged. The audience was not at all reluctant to have Brad again on stage with his music and his humor and showed its appreciation with another loud round of applause. Of the films shown, I particularly enjoyed a good number of Fats Waller's shorts. After the film show, most people went to bed, but the record spinners stayed up until 5 a.m. playing unusual and interesting records from their collections.
Sales of records continued on Saturday, March 11. In the afternoon, we were treated to Brad Kay's analysis of Ray Miller's recording of Cradle of Love. This was a scholarly and stimulating presentation which consisted of facts, interpretations and deductions. In his analysis of the solos by the mystery cornetist in the two takes of Cradle of Love, Brad discussed several characteristic features of Bix's extemporaneous improvisations-compositions and illustrated them by playing Bix's solos from several of his recordings. Some of the discussion is available in a series of letters from Brad to the Editor of Joslin's Jazz Journal. The text of the complete letters has been posted and can be read by clicking here. The lecture was presented with flair and a sense of humor which did not detract from the high intellectual content of the lecture. In fact, it helped people keep their concentration on the intricate details of Brad's masterful analysis. The piece de resistance in Brad's lecture was his novel approach to record simultaneously two different takes of the same recording in perfect synchronization. The two takes were recorded simultaneously, one dubbed to mini-disc and the other on the turntable. Brad adjusted the speed of his turntable up or down in increments of .1 per cent, enabling him to keep the synchronization. Brad presented examples from solos by Louis Armstrong, Frankie Trumbauer, Jack Teagarden and, of course, Bix. In this manner, differences between solos in alternate takes are clearly discerned. It was apparent that solos from different takes by Trumbauer and Armstrong were mostly the superimposition of identical notes. In contrast, Bix's solos in different takes are never the same. Although we knew this all along, Brad's technique brought out the differences in a dramatic manner. Of course, the solos from different takes harmonize with each other because they are constructed over the same set of chords. But there was even more to learn about Bix's solos: they complement each other. It was as if Bix was listening to the first take when he was recording the second and "accompanied" himself. With the two solos coming separately in the two speakers of the sound system, on occasion, it sounded like Bix was doing a "chase chorus" with himself. According to Bray, the only other musician who came close to what Bix was doing in different takes was Jack Teagarden. The important lesson to be learned from this interesting and novel technical analysis, as far as the identity of the mystery cornetist is concerned, is that the solos are not only different, but they complement each other in certain sections, just as Bix's authentic solos. This finding, when combined with all the evidence presented previously (click Cradle of Love), provides a compelling case in favor of the hypothesis that Bix is indeed the mystery cornetist. However, I must point out that Brad clearly emphasized that the main purpose of his previous and present analyses of the two takes of Cradle of Love is not to find the identity of the mystery cornetist. Rather, Brad feels that the most important contribution of his analysis is to obtain an insight into the creative process in general and Bix's compositional genius, in particular.
After Brad's presentation, Phil asked for a show of hands about the identity of the mystery cornetist. In an audience of nearly 100 people, three did not think the cornetist was Bix (interestingly, the three were professional musicians), six could not make up their mind, and the remaining, including myself, believed that the mystery corrnetist is Bix. Several people were highly complimentary of Brad's lecture. "I've learned a lot about understanding Bix's music." "This was the most intelligent lecture I 've ever heard at a Bix Tribute." "I would have gladly paid $50 to hear this lecture."
In the evening, two bands took turns at entertaining a highly enthusiastic and appreciative audience: Paul and His Gang from Sweden and the Red Rose Jazz Band. The latter plays traditional jazz and hot dance band music. The former specializes in Bix's music. All the musicians in both bands were applauded loudly, but I detected a slight preference on the part of the audience for Marie-Christine "Kiki" Desplat, one of two cornetists (the other is Paul) in the Paul and His Gang Band. In particular, her vocal rendition of the classic "I'll Be A Friend With Pleasure" drew spirited approval, perhaps, in part, because she sang the lyrics in French (her own translation; the "with pleasure" became "sans doute"). It was a very enjoyable evening for the audience and, I believe, for the bands too. The evening music was followed by another session of the "record spinners".
Sunday morning was free. In the afternoon we were treated again to the delightful sounds of the Red Rose Jazz Band and of Paul and His Gang with an interlude by Yves Francois and the Delegates of Rhythm. This band is rooted in the big band tradition. One of the musicians in the band is Frank Youngwerth, an excellent trumpet player and frequent contributor to the Bixography web site. The band presented an interesting rendition of "Cradle of Love" with a note by note reproduction of the mystery cornetist solo.
One of my personal thrills at the Tribute was meeting Fran Fitzwilliam. Fran was born in Moline, IL, one of the Quad Cities. As a teenager, she danced to the music of local bands that included Bix, and she actually met Bix. She remembers clearly dancing in the Coliseum, at Danceland, the Elks Club and the Roof Garden. I showed Fran the classic photograph of Bix from 1921, and she said that that is the Bix she remembered, except in November or December of 1930, the last time she saw Bix "and he did not look well at all". Fran said the "we thought Bix played very well but we did not think he was anything special." Fran considers herself a "jazz buff at special events". She said that she thought she was having fun when she was 70, but that now, at 90, "Im having even more fun." That was quite apparent as Paul and His Gang started to play, and she tapped her foot to the beat.
All in all, the Tribute was a splendid way to celebrate Bix's 97th birthday: great musicians playing great music, excellent lecturers providing enlightening and useful information, and just Bixophiles milling around and talking about the man and the music they truly love. Thanks, Phil, for a great birthday party in honor of Bix.

Report on Tribute to Bix, March 8-11, 2001.
The tribute for 2001 followed along the lines of previous tributes. On Thursday, there was a bus tour. Unfortunately, I did not arrive until Friday and therefore I do not know what sites were visited. On Friday and Saturday there were record, book and sheet music sales. I picked up an LP that I have been looking for for quite a long time: "Happy Birthday Bix, The Bix Beiderbecke Memorial Society in Washington." I will play a side or two from this album in the next WBIX program. There were two seminars, one on Friday by Chuck Sengstock on Chicago South Side theaters and clubs, and one on Saturday by John Schleffendorf on the history of LPs. On Friday night we had the Parisian Redheads for about 45 minutes, and that was followed by early jazz films (a lot of the great Fats Waller.) On Saturday afternoon Phil ran the $500 Mystery Record Contest in his usual chaotic manner (I was very lucky: I won a $25 and a $50 prize; I was not quite as lucky as Fran Fitzwilly the 91-year old lady who knew Bix; she won a $50 and the $100 prize!) The gala event was on Saturday night. The Parisian Redheads started by playing for about 45 minutes and they were followed by Vince Giordano's Nighthawk Orchestra who played three 45-minute segments. On Sunday afternoon Leah LaBrea & Her Flexo Boys took turns in entertaining the audience and we celebrated Bix's birthday by eating three cakes. I will post photos of the cakes in a few days.
In general, all events in the tribute reached a very high caliber. The seminar speakers were highly knowledgeable and their presentations were quite instructive. The Parisian Redheads (five French young women led by Kiki Desplat, the cornet player who was in Kenosha for the 2000 tribute with Paul and His Gang) and Leah and her Boys are quite competent and play songs with gusto and a good feeling for the spirit of the 20s. The highlight of the weekend was the performance by Giordano's Nighthawks. Everyone was extremely impressed by the quality of the orchestra and by the show they presented. The only way I can convey my admiration for what Vince is doing is to state that I view Vince Giordano's Nighthawk Orchestra as the Jean Goldkette of the 21st Century. Each individual musician (three reeds, violin/bass sax, trombone, trumpet, cornet, banjo/guitar, piano, tuba/string bass/bass sax) is a first class artist and the ensemble works like a fine quality antique clock in perfect running condition. The arrangements and musicianship are authentic 1920s. Depending on what they choose to play, the group can be hot or sweet, but it is always dynamic, exciting and highly entertaining. Vince has an attractive and engaging personality, exchanges clever and amusing remarks with his fellow musicians who respond in kind. Although the whole performance is presented in a relaxed and spontaneous manner, it is clear that a lot of work and rehearsing is needed to come up with a quality performance such as the one we witnessed. Moreover, it is also apparent that Vince is higly knowledgeable in the styles, intricacies and subtleties of 1920s jazz and hot dance music. All in all, the best orchestra that I have ever seen in my years of attending the Bix festivals in Davenport and in Libertyville/Kenosha. I thank Vince for his extraordinary and successful effort in bringing back the authentic sound of the 1920s.
Finally, all Bixophiles owe a great debt of gratitude to Phil for a great tribute to Bix and for his devotion in the last twelve years to promote the cause of Bixology.

I am grateful to Norman Gore for his kind gift of photographs of the cakes.
The writing on the cakes, clockwise, follows.
1. Show Boat. Special Record. Why Do I Love You? Lou Raderman and His Pelham Heath Inn Orchestra. 1086-P.
2. Test. Loved One. E32948-B.
3. Hot Jaz Club America. 801 A. In A Mist. Rhythm King. Bix Beiderbecke & His Gang. (801 A)
4. Harmony. Why Do I Love You? Lou Raderman and His Pelham Heath Inn Orchestra. 607-H

Report on Tribute to Bix, February 28, March 1-3, 2002.
The Tribute in 2002 followed the same pattern as previous ones. A trip to see jazz sites on Thursday; record sales, seminar, and old films on Friday,; more record sales, seminar, mystery record contest and concert on Saturday; concert and Bix birthday cakes on Sunday; late night record spinning on Friday and Saturday. Fran Fitzwilly, one of only two persons alive who knew Bix personally, attended the Tribute; she was her usual bright, jazz-loving, 90+old Bix fan! Hooray for Fran.
The Seminars. Phil Pospychala discussed Bix's alcohol addiction and his stay in the Keeley Institute in Dwight IL, October 14, 1929 - November 18, 1929. Phil had copies of several documents: admission, progress, and discharge reports. Asked how he had obtained confidential medical records, Phil (understandably) declined to indicate his source. I asked him to make copies of the reports available for posting in the Bixography. He will consult with his source and get back to me. The reports did not bring any startling new information. Some of the information is summarized in p. 491-492 of Evans and Evans' book. Two items in the reports are noteworthy. Bix stated that he drank three pints of whiskey on a daily basis. Most people thought that three pints was understated, more likely three quarts. The whiskey part surprised me because I thought Bix was a gin drinker. The second item has to do with negative evidence. Bix underwent a pretty thorough examination upon admission to the Institute. There is no mention of any scars in his body. This is discussed in detail in The second seminar a was an account of Phil's trip to New York city in early September 2001 and his successful attempt to take photographs of the interior of Bix's apartment in Sunnyside, New York. Phil's account was published in a recent issue of Joslin Jazz Journal. I asked Phil for a copy of the article and copies of the photographs. Knowing Phil, I wouldn't hold my breath. (Don't get me wrong: Phil is a great guy, devoted Bixophile, his tributes to Bix are highly sucessful affairs, but he is not the most organized person in the universe).
The Films. The films were shown by Bixologist and musician Frank Powers. They were fantastic, very early Vitaphones and pieces of early films. The showing lasted for about four hours with fascinating commentaries from Frank. I can provide a listing of only a few of the films, bands or songs that Frank featured. (My notes are illegible!)
A version of "Singin' the Blues" from a 1928 silent.
Gus Arnheim in 1928 with Ray Lopez and Russ Colombo.
A 1929 Vitaphone with the Mound City Blue Blowers.
Leo Reisman in late 1928 or early 1929 with perhaps Bubber Miley (not enough growling in my opinion to be BM).
Smith Ballew singing "If I had You, " "Some of These Days " and other tunes.
An excerpt from the 1932 film "Emperor Jones" with Paul Robeson, James P. Johnson and Fletcher Henderson.
An excerpt from a 1930 movie where Van and Schenk do "Harlem Madness."
A 1930 short directed by Buster Keaton with Cliff Edwards.
The 1932 short "The Yacht Party" featuring the Roger Wolfe Kahn orchestra with Artie Shaw, Manny Klein and Charles Teagarden.
A 1933 Vitaphone with Isham Jones' Orchestra.
An excerpt from the 1940 film "Rhythm on the River" with Bing Crosby and Harry Barris.
Gene Rodemich's added soundtrack to the 1916 Charlie Chaplin hilarious short "One A.M."
Cab Calloway doing "Reefer Madness" in 1933.
The Benny Goodman Quartet in 1937 from the film "Hollywood Hotel."
An excerpt from the 1929 film "The Delightful Rogue", the first interracial jazz band with Curtis Mosby on drums.
Cabin in the Cotton from 1932.
Curtis Mosby and his Dixieland Blowers in 1929.
Vincent Lopez in 1932 doing St. Louis Blues with Mike Mosiello on trumpet.
A delightful evening and the four hours went past too rapidly!
The Bands. There were three bands, Mike Bezin's West End Jazz Band, The West Jesmond Rhythm Kings, and Dave Greer's Classic Jazz Stompers. Mike Bezin's band (cornet, trombone, reeds, tuba, banjo, drums) was at the Tribute last year. I was impressed by the progress they have made in just one year. They fall, to my ear, in the category of a hot dance band, playing a lot of Coon-Sanders Nighthawks and California Ramblers selections. The band features excellent arrangements by Mike who plays excellent cornet and a faithful 1920s sound; I enjoyed them very much. They are going to play on May 5, 2002 at the grand reopening of the Blue Lantern in Hudson Lake; save that day in your calendar and go, if you possibly can make it. The West Jesmond Rhythm Kings (trumpet, trombone, reeds, tuba and banjo) are heavily into Clarence Williams; the leader, Mike Durham, has a very good (typically British) sense of humor and plays excellent trumpet. The audience at the concerts on Saturday night and Sunday afternoon was very receptive and enjoyed the music immensely.
The Birthday Cakes. Norman Gore promised to send me photos of the cakes. I will post copies of the photos late in April. The reproduciton of record labels was magnificent. There were three cakes. 1. Victor, In My Merry Oldsmobile, Jean Goldkette and His Orchestra, Special Record.
2. Harmony, There's A Cradle In Caroline, Broadway Bellhops, 504H.
3. Jazz Classics, 532A, Bessie Couldn't Help It, Bix Beiderbecke with Hoagy Carmichael and His Orchestra.
Overall, another great Tribute to Bix with the indefatigable Phil playing all instruments, organizer, host, MC, seminar lecturer, tour guide, etc. On Sunday evening, when the Tribute ended, Phil was given a highly deserved warm applause by a grateful audience. Go, Phil, go.

Tribute to Bix. Racine, March 2006.



The Tribute to Bix in Racine, March 9-12, 2006
by Albert Haim



Here are some details of the Racine bash.

Thursday – bus tour. Andrew mentioned most of what we did. A couple of additions.
- Orson Welles' house at 6116 Seventh Avenue, Kenosha, WI.
- Memorial Hall in Racine where Whiteman played on October 12, 1925. Here are a couple of images.



Friday afternoon – My lecture on "Copying Bix," about two hours in length with text, images, and music. Here is the list of solos/complete arrangements that were discussed

Solos
1. The Jazz Me Blues
2. Copenhagen (several copies)
3. Tiger Rag (several copies)
4. Riverboat Shuffle (two copies)
5. Sweet Sue (two copies)
6. I'm Coming Virginia (one copy/tribute by Bobby Hackett)
7. Singin' the Blues (two vocal copies)
Complete arrangements
1. Singin' the Blues (two copies)
2. Clarinet Marmalade
3. Ostrich Walk

Friday evening. The band that was supposed to play did not come. So some of the musicians: Mike Durham, Andy S (the young student at the University of Illinois who posted here a few months ago; a highly talented cornet player), David (a high school student on trombone, tuba, trumpet, another talented young man), Sue F on drums (she improvised a set using an ashtray can, a cardboard box and a chair!!!) and ???? got together and played for the audience. Nice work guys and dolls.
That was followed by movies.
1. A documentary on the South Shore Railroad (the one that runs from Chicago to Hudson Lake). When the railroad was modernized, a documentary of the first run was made. The narrator in the soundtrack mentioned that the Casino at Hudson Lake was the site for the appearance of several bands and mentions Bix Beiderbecke, not Jean Goldkette, as one of the major musicians to have played at the Casino (re-named Blue Lantern by Goldkette for the glorious summer of 1926).
2. A documentary on the Weintraub Syncopators.
Excellent. Here is an image.


3. Gilda Gray, the shimmy queen, in "Rose Marie" with the great Nelson Eddy/Jeannette McDonald couple. Here is Gilda.



There was more, but I left and went to the record spinning session.

Saturday Afternoon. Brad made his presentation of "Cradle of Love, Part 3". It lasted more than two hours. He discussed similarities between the mystery cornetist and Bix and presented several synchronized solos from alternate takes of Bix, Louis, Jimmy Dorsey, Jack Teagarden, and the mystery cornetist. There was a good questions and answers period following Brad's lecture. Very enjoyable and illuminating. In spite of Brad's detailed analysis, I am more and more convinced that Bix is not the mystery cornetist.

In the evening, we had a concert with the bands "Swing Shift" (good, technically, but wrong time period, big band sound) and "Dixie Doodlers" with Andy S, the highlight of the band in my opinion.

Sunday afternoon. Bix birthday cake, the same two bands as Saturday evening plus the West End Jazz Band, a really excellent group.

It was a pleasure to see many of the forumites and to celebrate Bix's birthday with so many knowledgeable Bixophiles attending the Tribute. I thank Phil for the work he puts in organizing these Tributes, and I hope that he can continue for many more years!

Albert

PS I am certain I forgot many parts of the program. Those of you who attended, please fill in! Thanks.

Posted on Mar 16, 2006, 8:25 AM



Racine Reflections – Phil Pospychala's Tribute to Bix March 9-12, 2006

From Jim Petersen, Davenport, Iowa

My friend, Gerri Bowers, asked that I recall our trip to the Bix tribute in the Racine Wisconsin area, and I'm happy to comply.

First, a little about how I came to know Mrs. Bowers and how I became a Bix fan.

My beloved 96 year old father, Victor H. Petersen, passed away a year ago this April. Gerri, who is a genealogist called me to tell me that I was a 2nd cousin, once removed, to Bix Beiderbecke. She also noted that my grandfather, Albert L. Petersen, was known as "Uncle Olie" to the Beiderbecke family and was involved with Bix and his musical education in the early days. I knew some of that, but I wanted to learn more, so I was invited to Gerri's house where I met Julie and Matt Craighead, Rich Johnson and of course Kent and Gerri Bowers.

The more I learned about Bix and the more I listened to his music, the more interested and enthusiastic I became. The festival in Davenport was the final event that converted me into a Bix fan once and for all. Once I learned this Racine Fest was so close by, I was raring to go and to take some of my new Bix friends along with me. Happily, Rich Johnson, Matt and Julie Craighead consented to ride along with me. So shortly after the conclusion of the Bix Birthday Bash at the Fairmount Street Davenport Library on Wednesday the 8th of March, off we went!

A neat part of this Fest is the Thursday March 9th bus trip to places of some importance to the history of jazz. While the day was somewhat dreary, it did nothing to dampen the enthusiasm of the 50 some fans aboard the Phil Pospychala Express! Phil's tour guiding was both informative and entertaining and when we had time between stops, Betty Boop, Charlie Chaplin and others held our interest on the small screens near each seat.

I'll rattle off just some of the stops along the way, the first point of interest was the Memorial Auditorium in Racine, Wisconsin where Paul Whiteman played prior to Bix joining them. We stopped by the house where Jabbo Smith, a top black jazzman once lived. We peered in the windows of what used to be a bar where Gilda Grey started her career of "shimmering". We went past Marquette University in Milwaukee, and the boyhood home of the late actor, Orson Welles in Kenosha.

One of the more interesting stops was the tour thru the Pabst Theater in Milwaukee. It was built (in 6 months no less!) in 1895 and has 1350 seats. It was very ornate and beautiful. Some of the greatest talents in the world have performed there, including the Paul Whiteman band on two occasions prior to Bix joining them. The Pabst theater is the 4th oldest continuous running theater in the United States!

From the theater, we hit the only "mini" bowling alley in Wisconsin. The lanes were about 20 feet long and the balls the size of large grapefruits with no holes in them. The pins were about 10 to 12 inches tall. Several of the group tried their hand at this nearly obsolete form of bowling – they even featured human pinsetters! The alleys were located at the back of the "Coz" tavern.

We then went to a bar that is the only concertina bar in the US. Some of our guys brought there instruments along and played a little Dixieland until the "Polka" guys showed up. As the night went on, the jazzers joined the Polka boys and it was fun to watch the jazzers "fake" the Polka stuff. It was great fun for all. The shocked look on some of the local's faces as they entered their neighborhood tavern to see it full of new folks with many of them trying to Polka, was priceless in itself. Norman Rockwell would have had fun with the many faces that visited (and operated!) this unique tavern. The place might have been a fountain of youth as I think about it. One gentleman who was celebrating his 90th birthday walked very haltingly, but when the music played, he lightly skittered about as if many years younger.

On Friday, there was a for sale section where you could buy CD's, Books and memorabilia and old 78 RPM records. They had a record listening session Friday night and some were there until after 4:00 AM!

<>

New York's Albert Haim took advantage of the very nice Marriott sound system and gave a talk about the many artists who copied Bix.

When making direct comparisons as Albert did with the audio system, it was crystal clear why we all think Bix was so great.

After playing "Singing the Blue's" in it's entirety, Albert, in an obviously heartfelt way, said, "Thank you Bix…..it's his birthday today everyone!"

I can't speak for the others but I for one had a king sized lump in my throat about that time.

The band that was to perform on Friday night couldn't make it, so they had a band made up of whoever brought their instruments on the trip. One of the gals (Sue Fischer of New Orleans) was a drummer, but of course she didn't bring her drum set with her. She ended up buying or borrowing a cymbal out of the swap meet and attaching it to a chair, she used a tall stand alone ash tray and a cardboard box and that was her drum set....it didn't sound too bad and she laid down a nice beat for the boys. Luckily, Sue brought her sticks with her, or perhaps soda straws and swizzle sticks might have been employed! My friend Matt Craighead played his Sax (as he did at the concertina bar) and Rich borrowed a guitar from the sales area (full of rock musician stickers etc.!) and played also. England's Mike Durham (Spat's Langham & his Rhythm Boys and The West Jesmond Rhythm Kings) also graced the stage as did others whose name I didn't catch – but the place was jumpin'!! Two young students joined the band the last set and they bought the house down with some fine trombone and cornet playing. After the music, we were treated to some old films concerning the history of jazz – even took a video train trip to the Blue Lantern on Hudson Lake where Bix performed with the Goldkette orchestra and where he started composing his famous number, "In A Mist".

On Saturday, California's Brad Kay, a fine keyboard player as I learned from Friday's jam session and again this day, gave a nice talk about the possibility of Bix playing the solo's on three recently discovered 78's by the Ray Miller Band.

The tune in question was "Cradle of Love". Brad dissected the sounds of Bix and several others who might have played the solo in question.

The nice sound system again came into play to the delight of those present. A convincing argument can be made both pro and con over this solo and people seem to be on one side or the other about it.

My friend Rich Johnson found the whole "Cradle of Love" discussion a good way to have a little fun. When he borrowed the guitar from the sales area, he kidded and said it was one that once belonged to Eddie Condon and that he found a note inside that read, "Eddie, Tell them that it wasn't me on Cradle of love. Bix" Rich also had a version of the letter where Bix said that it WAS him on "Cradle" depending on who he was talking to.

Unfortunately, the conclusion of Brad Kay's talk also meant the end of our trip. We missed a lot of music scheduled for Saturday night and Sunday, but we all had commitments calling us back to the QCA. I want to thank Rich, Matt and Julie for their enjoyable company that weekend and for putting up with "wrong turn" Petersen on the trip.

As I said earlier, there were other points of interest not mentioned here.

Phil was already planning the bus trip for next year during this trip as he uses a different route each year.

Well worth a Bix and/or a jazz fans time and money. Visit: www.geocities.com/bixfest for more details on upcoming events.

I'll leave you with one of many chuckles I had on the trip, when one of the guys said he had a friend who had 70 trombones, Mike Durham spoke up and said, "What? He couldn't afford 6 more??"

Originally published in the Catfish Jazz Society Journal. I thank Jim Petersen for giving me permission to reprint the article here.

Since 1995, every March 10, the Davenport Public Library celebrates Bix's birthday. The event is sponsored by the Davenport Public Library, the Bix Beiderbecke Memorial Society and the FRIENDS of the Davenport Public Library. For the 1999 celebration, there will be music by The Riverboaters Jazz Band with Manny Lopez playing Bix's horn (on loan from the Putnam Museum), and David R. Collins will have his book "Bix Beiderbecke: Jazz Age Genius" available for autographing.

Every year for the last 30 years, on March 10 (Bix was born on March 10, 1903), Phil Schaap, the erudite jazz expert from the radio station of Columbia University, has paid a tribute to Bix Beiderbecke's musical genius. Phil devotes 24 hours of the programming of WKCR to playing the complete recordings of Bix. In addition, he selects a theme and discusses it in depth. For example, in the last tribute (1999), Phil discussed in depth Bix's recordings of 1930. He made the very important point, that the 1930 recordings are not those of a "down and out" Bix, but those of a Bix who was evolving and attaining new heights of creativity.

For the past several years, on the Sunday nearest to Bix's birth date of March 10, Richard Hadlock has paid tribute to Bix Beiderbecke's musical genius in his radio program "The Annals of Jazz". Richard Hadlock is a distinguished jazz writer and musician. He wrote the classic work "Jazz Masters of the 'Twenties" and has played clarinet and soprano sax with such great musicians as Turk Murphy, Kid Ory, Maxine Sullivan, Mugsy Spanier and many more. Currently, he plays with various San Francisco Bay Area groups. Richard Hadlock studied with the legendary Sidney Bechet. Richard is one of the founders of the Worshippers of Bix. Richard just completed writing the liner notes for a set of eight CD's with music by the trombonist Kid Ory.
Every Sunday from 7 to 8 pm Pacific Time, Richard Hadlock's jazz program is broadcast on KCSM, Jazz 91, a radio station in San Mateo, CA. This program (as well as all the other programs from the station) can be heard over the internet. For the 1999 tribute, Richard placed special emphasis on Bix as a composer. Richard spends six to twelve hours to prepare each of his one hour shows.
I listen to the program often and find it quite informative and enjoyable. I will mention one of Richard's recent programs because of the connection with Bix. On the occasion of Red Norvo's recent death, Richard played several of Red Norvo's recordings from the mid 'thirties. Interestingly, one of the musicians in the band was Stewart Pletcher, the father of Tom Pletcher, who in most people's opinion is the cornetist who comes the closest in reproducing Bix's special sound. The other connection with Bix relates to Red Norvo's recording of "In A Mist" in 1933. Red Norvo's version on marimba is in my opinion, except for Bix's own recording, the most interesting version of "In A Mist".
I strongly recommend Richard Hadlock's "The Annals of Jazz" to traditional jazz lovers. Richard must be doing something right. Throughout August of 1999, he is celebrating the 40th anniversary of his radio program with a special series on the "Founding Players" of jazz.

Paul Sterman wrote an article about Richard Hadlock in the July 27, 1999 issue of the San Mateo Times. I thank Richard for his generosity in answering my questions and for sending me information about Bix and about his radio program.

Bix Beiderbecke Legacy Stage Show.
The New Wolverine Orchestra will present the second edition of their Bix Beiderbecke Legacy stage show on 28th July, 1999 in Sydney's "Independent Theatre". The title for this year's edition is "The Story of Bix". This will be a 3-hour theatrical presentation tracing Bix's life and recording history, with stage lighting, costume changes, etc. The show is narrated by one of Sydney's top stage/radio/TV/film actors, John Derham, following a script prepared for him by the show's promoter, John Buchanan. While the orchestra plays, a giant projection screen behind the band shows "blow-ups" of photographs of Bix.
The tunes, ranging from Bix's first to his last recording, are representative of all the facets of his career: piano solos; Wolverines; Rhythm Jugglers; Goldkette; Trumbauer; Tram, Bix and Lang; Bix & His Gang; Whiteman; The Hotsy Totsy Gang; Hoagy's Orchestra; and Bix's own orchestra.
Addendum, August 7, 1999. Trevor Rippingale writes: "The Story of Bix" was a sell-out : 350 people and bookings had to be turned away in the last few days. Audience response was absolutely overwhelming: a very emotional reaction to the music, the narration and the giant photos of Bix and the boys behind the band as we played. It really inspired us to play better than we'd hoped...and not without a tear of two among the band. The dedication to Phil [Evans, ed.] (whom we'd all met) both in the programme and from the stage heightened this emotion for us. Our cornetist Geoff Power won ovations for his note-for-note Bix solos playing his 1920s Conn Victor American long cornet, as Bix so often used. Being quite young and with his hair parted in the middle, he also looked uncannily like Bix. One of the best received numbers of the whole night was the trio piece, "Wringin' an' Twistin' " which I did on C melody sax playing Tram's solo, with Robert Smith's note for note piano solo (as played by Bix originally), and drums accompaniment (our guitarist unfortunately opted out) plus the 2 bar cornet break at the end. The narrator drew attention to my 1925 Conn C melody sax, which I also played in "I'll be a Friend With Pleasure", "Singin' The Blues" and "The Japanese Sandman": all Tram solos. The audience responded magnificently, as they also did for the 1924 Conn bass sax which I brought out for "At The Jazz Band Ball", "Changes", "Since My Best Gal Turned Me Down" and "Riverboat Shuffle". Its good to get recognition for these lovely old rare instruments. Our pianist, Robert Smith, deserves great praise for his faithful ten-finger re-creations of Bix's piano solos : "In A Mist", "Flashes", "In The Dark" plus "Big Boy" and "Wringin' an' Twistin' ".

The above account is an almost verbatim transcription of an e-mail (7/8/99) from Trevor Rippingale. I am grateful to Trevor for providing the information.

Gathering of August 6, 1999 in Front of Bix's Last Residence.
Report: Mike Heckmann and I, the organizers, were in front of 43-30 46th Street, Sunnyside, Queens, NY, at 6:00 p.m. Bix died in appartment 1H of the building on August 6, 1931 at 9:30 p.m. Although the event had been advertised in the Bixography web site for a couple of weeks, only four people attended the event. It turns out that three of the attendants learned about the event from Rich Conaty's Big Broadcast program of August 1, 1999. I had sent Rich a print out of the invitation posted in the web, and he was kind enough to announce the event during his program. The fourth attendant was Joe Giordano, Bixophile extraordinaire for 50 years, writer (he has published several articles about Bix-related subjects in "Jersey Jazz") and collector (he has, except for a few alternate takes, every 78 record that Bix ever cut).
The block of 46th Street where 43-30 is located is rather nice. There are a number of apartment buildings that are kept in excellent condition. The street is lined with small trees. A few doors from 43-30 is a nice Episcopalian church.
We stayed in front of 43-30 talking and playing Bix's music on a cassette tape player. At 9:30 p.m., Mike said a few words about Bix and about his innovations in the jazz idiom. Here is Mike's complete presentation.

"We have come here tonight to remember an American musical genius, Leon Bix Beiderbecke, who died exactly 68 years ago on August 6, 1931 at 9:30PM. He died in his apartment in this building, 43-30 46th Street. By all accounts, he died a horrible death in a fit of the d.t.s. He was 28 years old.

Because he died so young and so long ago, practically no one remember shim. Those who have heard of him might categorize him as a jazz musician. That would be an accurate but superficial description.

What Bix created was music of a unique beauty. Jazz was the medium of his expression, but the music that came from his cornet and his piano was comparable to lyric poetry. He took the brash, extroverted art of jazz and showed that jazz can be lyrical and reflective. He is credited with being the originator of the jazz ballad and that has been his most enduring legacy.

Of his particular style of playing, there have been many who have
attempted to recreate his sound. Technically, these imitators have it
all down. Spiritually, they're not even close.

Bix made his last records in 1930, a year when the country was in the
depths of the Great Depression. The popular music changed with the
times. The jaunty music of the 1920s gave way to the sad music of a
nation feeling sorry for itself. Bix was the nominal leader of a band
that made a record of one of these sad songs. It was called "I'll Be a
Friend with Pleasure". One of the lines goes: "Though you are gone,
dreams linger on I treasure."

When Bix died, many of his friends reported they instinctively played
this record. And so it has become a tradition which we carry on tonight."

At this point, "I'll Be a Friend With Pleasure", take 2, was played on a tape player. A moment of silence was then observed. At the end of the moment of silence, "I'm Coming Virginia" was played on the tape player. As the music started, Mike continued:

This happier, and some say, most beautiful record of Bix Beiderbecke's,
"I'm Coming Virginia", made in 1927, is an illustration of the motto of
the Bix fans. Though he died here in 1931, through his music, "Bix
lives".

From the beginning of the evening, Joe had been telling the group that after the event in memory of Bix we should all go to the Neptune Diner in Astoria, Queens for a snack. Joe insisted that it would be worthwhile, but he was somewhat mysterious. I must admit that I did not see anything worthwhile about going to a diner in Astoria, Queens at 10 p.m. However, I soon found out that the diner was an excuse. It turns out that half a block from the diner is 2460 32nd St., Astoria, Queens, NY, an apartment building where Bix lived for a week before moving to the (then) new apartment at 43-30 46th Street. Joe wanted the group to see this building and knew exactly how to get there.
At the end of the evening, Joe presented all the participants with a photograph of the plaque that had been affixed to the building at 1600 Broadway, Manhattan in 1975, and a copy of an article he had written for the October 1987 issue of Jersey Jazz. The building at 1600 Broadway housed the Cinderella Dance Palace, where the Wolverine Orchestra (including Bix) made its debut on September 12, 1924. The plaque had been placed on the building to memorialize Bix's debut in New York City. The article in Jersey Jazz provides an account of how the Bix plaque was taken down and the campaign Joe organized (as it turned out successfully) to have the plaque remounted.
In spite of the small turnout, I found the gathering in front of Bix's last address memorable. There was something very special about being, on a warm summer night, in front of the building where Bix had passed away, on another warm summer night, 68 years earlier. May Bix rest in peace.

In Memory of Bix

Just two people, Joe Giordano and I, showed up at 43-30 46th St., Sunnyside, NY on August 6, 2000 to honor the memory of Bix. We went into the building and saw the door to Bix's apartment 1H. Joe left around 9:15 pm (he has a four-hour ride to his home). At 9:30 pm, I was alone in front of the building. I played "I'll Be A Friend With Pleasure", thought about Bix's musical genius and thanked him for the innumerable hours of happiness he has given me for the last 55 years. Rest in peace, friend.

Bix Vigil, August 6, 2002.
This was a great success. There were over 30 people, Bix fans, officials from local historical and civic societies, neighbors. The most distant visitor was our Forum contributor, Andrew, from Minnesota. The nearest, from across the street, was Paul who had organized last year's vigil. It was good to see him up and around after his operation. I believe that the reason for the success is that the vigil, after the first effort by Paul, is beginning to gain momentum through the active participation of the local organizations, the Sunnyside Historical Society, the All Saints Church and last, but not least, the organizational skills of Stuart and Tony.
We had had a heat wave in New York for several days. But August 6 began as a beautiful, clear, cool, and dry day. The vigil started at about 7:30 pm with a selection of American patriotic songs played by the Sunnyside Drum and Bugle Corps, with Tony directing. The band consists of about eight youngsters (10 to 14) playing drums and cymbals and four playing xylophones. It was a call to the neighbors and passers-by for the upcoming Bix vigil.
Around 8 pm, Tony started setting up the PA system in the beautiful Church courtyard. Once that was complete, Stuart put on one of the CDs he brought along and Bix's music was heard throughout the neighborhood. Tony introduced the Church senior warden, Lindsay, who graciously greeted the people. I said a few words, mostly how Mike, Joe and I had started the gatherings in 1999, with very limited success. I mentioned the idea of the plaque. It turns out that the commemorative plaque on the apartment building for 2003 represents one of the highest priorities for the local groups. Then one by one, at Stewart's suggestion, Bixophiles went up to the microphone and told the circumstances that led them to discover Bix's music.
At about 8:45 pm, we lighted candles, took a moment of silence and played "Ill Be A Friend With Pleasure." When the song was over, Stewart suggested that we should all walk to the front of Bix's apartment in the form of a procession, lit candles in hand. We did. Then we knocked on the door of apartment 1G and Andrew explained to Murat, the owner of the apartment, who we were and what we were doing there. Murat knew that the apartment had been occupied by a famous jazz musician because Phil Pospychala had been there last year and had taken photos of the apartment. Murat was quite friendly and allowed me to come in and see the layout of the apartment.
As one enters, there is a small foyer that leads straight to a large room with windows facing the back of the building. To the left there is a narrow corridor that leads to a small bedroom. Two doors in the corridor lead to kitchen and bathroom. It was very emotional for me to actually be inside the apartment where Bix had lived briefly -and had died. I am grateful to Murat for his kindness.
By 9:00 pm we were back in the courtyard and the vigil was over. There was clearly a determined attitude by organizers and participants to come back next year, the centennial year, for a special vigil that would include a commemorative plaque.

I thank Stuart for sending copies of the photos.

The Turkish Connection. Some of you know that I was born in France. What most of you do not know is that my father and mother were born in Izmir, Turkey and that I have three cousins (the children of my father's brothers) born in Izmir and still living in Turkey. One of the people to show up at the vigil was Becky, a nice lady born in Izmir, Turkey. Guess what? Becky went to the same school that my cousins went to and knew them all!. Talk about a small world!

The organizers are soliciting donations ($10, 20, 50, etc. whatever you can afford; donations are tax-deductible) toward the plaque and vigil for 2003. Please make checks payable to "Sunnyside Foundation for Community Planning and Preservation" and mail them to 45-18 Skillman Avenue, Sunnyside, NY 11104. Please add "Bix Memorial" on memo of all checks.

Bix Vigil, August 9, 2003.
The 2003 Bix vigil in Sunnyside, NY was most successful. On August 6, 2000, only two persons attended the vigil: Joe Giordano and I. On August 9, 2003 there were close to 100 people! All this success is associated with the excellent organizing abilities of Paul Maringelli. The audience was made up of people from the neighborhood, individuals associated with various civic and political organizations and Bixophiles some coming from as far away as New Jersey, upstate New York and Eastern Long Island.

The official hours were 7 to 9:30 pm. However, by 6:30 pm people started drifting into the church courtyard adjacent to 43-60 46th Street, the apartment building where Bix spent the last few weeks of his life. The side of the building can be seen from anywhere in the courtyard. This includes the windows in the corridor that leads to the apartment which Bix occupied for those few weeks. As soon as Tony set up the public address system, Bix's records were played. The first was "The Jazz Me Blues" and it was followed by "At the Jazz Band Ball." I found it quite emotional to listen to Bix's extraordinary cornet sound and look at the windows of the corridor that Bix must have walked so many times and thinking of Bix, in poor health, slowly waning, alone.

By 7 pm a large crowd had gathered (nearly 70 people) and Paul opened the proceedings. A series of short speeches were made by several representatives of organizations and individuals that supported the event, The Kiwanis Club of Sunnyside, a member of the staff of Assemblywoman Catherine Nolan, Bob Singleton of the Greater Astoria Historical Society, and Councilman Eric Gioia. As time went by, more and more people came in and by 7:15, I estimate that the audience was close to 100 people strong.

Then Paul introduced the keynote speaker, Martin McQuade, Video and Music Archivist, Film Historian, and Bing Crosby specialist. The theme of his address was the relation between Bing and Bix. Martin read several excerpts of Bing's comments about Bix. Perhaps the most interesting of the readings was a statement by Bing in which he states that he tried to sing like Bix played cornet. Martin then played and commented about five of the Paul Whiteman recordings that Bix and Bing made together, "Changes," "From Monday On," "You Took Advantage of Me," Oh, Miss Hannah,: and "Waiting At the End of the Road." An excellent selection of Bix 'n' Bing.

Paul called me to the microphone and I started by providing a short account of the Bix vigils, beginning in 1999 as a small gathering –organized by Mike Heckman and I- of fans outside of Bix's apartment building. I followed with some remarks about the world-wide importance of Bix by mentioning the Ascona Jazz Festival in Switzerland [the title of the festival for 2003 was "Bixology"] and the Bix Beiderbecke Memorial Jazz Festival in Davenport last July. Both of these festivals were attended by over 10,000 people. I briefly mentioned the fact that Bix had been inducted in the International Jazz Hall of Fame in 1997 and that two of Bix's recordings –"Singin' the Blues" and "In A Mist"- had received Grammy Hall of Fame Awards in 1977 and 1980, respectively. Finally, I mentioned that the house where Bix was born, 1924 Grand Avenue, Davenport, Iowa was entered in the National Register of Historic Places in 1977.

Then a small jazz combo –keyboard, trumpet, saxophone, string bass and Paul on drums played several selections such as My Blue Heaven, Blue Skies, Back Home in Indiana, etc. At about 8:30, Paul unveiled the commemorative plaque that had been placed on a stand. It is a magnificent object [image to be uploaded] to be mounted on the front wall of the building at 43-60 46th Street, Bix's last place of residence. The text was suggested by Mike Heckman.

At 8:45 pm, the band stopped playing and the audience moved from the courtyard to the front of Bix's apartment building. Candles were lit and Bix's recording of "I'll Be A Friend With Pleasure" was played. A simple, yet effective way of remembering Bix, who died 72 years ago in the building; a fitting homage to a modest genius.


Bix Vigil 2005.
This year's vigil took place on August 6, exactly on Bix's 74th anniversary of his death. The event was organized by Paul Maringelli and the Bix Beiderbecke Sunnyside Memorial Committee. Undoubtedly, Paul is a gifted organizer: the event flowed smoothly and effectively. Approximately 100 people were present. The courtyard of the All Saints Episcopal Church, with its majestic trees and nice landscape, provides an effective venue for this memorial gathering, especially since it is located next door to the buidling where Bix briefly lived in the summer of 1931.


As usual, the first item on the program was a concert by the Sunnyside Drum Corps. It is nice to see a group of youngsters carefully playing together and dedicating some of their free time to learn and practice the instruments. The Corps got a warm round of applause.


<>The second item in the program was a lecture by Albert Haim (me). I told three stories. The first story was a brief report about the 2005 Bix Festival in Davenport. I mentioned the theme of the Festival -Bix Around the World- and illustrated that by mentioning the nine biographies written about him, two from the UK, two from Italy, one from Germanymone from France, and three from the US. I described that Randy Sandke was a guest and played Bix's Vincent Bach Stradivarius cornet, kept at the Putnam Museum. The second story was last year's induction of Bix in the Ertegun Jazz Hall of Fame at Jazz at Lincoln Center. The audience was highly impressed by the fact that Bix was one of only fourteen inductees. The third story was about 1600 Broadway. I gave a brief history of the building and told that Bix played in that building - the Cinderella Ballroom in 1924 and the New Yorker Club in 1927. I also related the fact that the premiere of Brigitte Berman's documentary about Bix took place in that building on the 50th anniversary of Bix's death, August 6, 1981. I also mentioned the plaque on the building, and the fact that the buidling has been demolished.


The third part of the prgram was music by a live band put together by Frank Pedulla. Frank certainly has a good appreciation of the musical legacy of Bix and Tram. He gave a discussion of the intruments in the band (cornet, trombone, alto saxophone, clarinet, tuba, banjo and drums). Each member of the band illustrated his or her instrument by playing a short piece: an effective and educational presentation. The band played several standard Dixieland tunes (Basin Street Blues, Panama, Dark Town Strutters Ball, When the Saints Go Marching In) and two Bix tunes, Fidgety Feet and Sensation. A couple of ladies danced to the music, one of them was an elderly lady: she moved with grace, kept perfect rhythm, and had enormous fun. The audience responded warmly to her. Congratulations to the members of the band, to Frank for putting it together, and to Paul for choosing Frank as the leader.


The last part of the program was the traditional candlelight vigil. A group of participants walked the short distance from the church to 43-30 Bliss (46th) Street, lighted candles and entered the building. We gathered in front of apartment 1G and stayed there for several minutes with candles lit, each thinking his/her own thoughts. I thought about Bix, his glorious music, his sad ending, his partially fulfilled promise, and replayed "I'll Be A Friend With Pleasure" in my mind (being inside the buidling, it was not appropriate to play music).


Another excellent tribute to Bix, a good way of keeping his legacy alive. Thanks to Paul, the Bix Beiderbecke Sunnyside Memorial Committee, and all the sponsors of the Vigil.


The JVC Jazz Festival.
On June 27, 1997, The JVC Jazz Festival presented "The Re-Discovered Music of Louis and Bix" at the Sylvia and Danny Kaye Playhouse, Hunter College, The City University of New York. The music was arranged and conducted by Randy Sandke. The concert was divided in two parts: The Music of Bix Beiderbecke and The Music of Louis Armstrong. According to the program, "the JVC Festival is proud to present a full concert of some of their music which has remained lost until now." "Randy Sandke proposed creating a full evening of music by including "lost" music associated with Bix Beiderbecke." "... Randy also offered to make arrangements in the style of the ensembles with which Bix had recorded certain compositions (not his own), the masters of which had been destroyed without being released, plus two unrecorded compositions attributed to Bix."
The Bix segment of the concert consisted of the following.
No One Knows What It's All About. Recorded for Gennett on 1/26/25 by Bix and His Rhythm Jugglers. Master Destroyed.
Play It, Red. Recorded for Victor on 5/23/27 by Jean Goldkette and his Orchestra. Master destroyed.
Lily. Recorded for Victor on 5/6/27 by Jean Goldkette and his Orchestra. Master destroyed.
Did You Mean It? Recorded for OKeh on 10/16/27 by Frank Trumbauer and his Orchestra. Mater destroyed.
Stampede. Recorded for Victor on 2/1/27 by Jean Goldkette and his Orchestra. Master destroyed.
Singin' the Blues. Recorded for OKeh on 2/4/27 by Frank Trumbauer and his Orchestra. Released as OKeh 40772.
Thinkin' of Bix. A new composition by Dick Hyman. Never recorded at the time of the concert. Has since been recorded by Dick Hyman in his 1998 CD RR-84CD "Dick Hyman in Recital".
Betcha I Getcha. A Bix Beiderbecke composition as related by Joe Venuti to Dick Hyman. Never recorded.
Cloudy. Stated to be a Bix composition by Charlie Davis. Never recorded at the time of the concert. Has since been recorded by Randy Sandke and is available in the CD Awakening (Concord CD 42049-2) with the subtitle "Homage to Bix".
I am grateful to Joe Giordano for a gift of the program for the concert.

Review of the Concert. New York Times, 07/01/97, Late Edition - Final , Section C , Column 3 , Page 10

The Lost Louis and Bix: They Weren't Lost at All
By BEN RATLIFF

In ''The Rediscovered Music of Louis and Bix,'' Friday night's JVC Jazz Festival concert at Kaye Playhouse, the record producer George Avakian and the trumpeter Randy Sandke presented a cache of unknown material written by Louis Armstrong that was recently found in the Library of Congress. And much besides: some pieces Bix Beiderbecke recorded but never released (the masters were destroyed), extra unrecorded strains to a few well-known Armstrong pieces, and the thrill of hearing all this music played on horns owned by Armstrong and Beiderbecke.

The long-lost tunes weren't masterpieces by any stretch. But masterpieces by definition obscure the mechanics of craft and don't instruct as well as the typical and the workmanlike. Mr. Sandke restored the old pieces, creating period arrangements for different assemblages of 11 players and in one case composing an entire verse so the piece would hang together. (Of course, we don't know what the solos sounded like, and solos were the stock in trade of both Armstrong and Beiderbecke.)


In the Beiderbecke half of the program, the tunes, some quite trite and derivative, were not written by him (with the exception of ''Betcha I Getcha'' and ''Cloudy,'' two pieces that have survived only through the memory of Beiderbecke's colleagues). The jewels of the Armstrong half were two songs from 1923, when Armstrong played with King Oliver's band: one in a minor key that was a fairly standard New Orleans chord progression, the other (''When You Leave Me Alone to Pine'') slower, its melody more haunting.

Both pieces were played with double trumpet breaks, in the Oliver band style, and Nicholas Payton projected like a siren over Mr. Sandke. They were followed by some unknown swing-blues and jump tunes that Armstrong wrote in the mid-40's but weren't recorded. They didn't show Armstrong as a masterly composer so much as someone who kept his work remarkably fresh through a wide array of styles.

Finally, the concert was so well held together by Mr. Sandke -- whose joy in playing Beiderbecke's role was unmistakable and poignant -- that it ended up a useful seminar. And there were inspired segments, like an imagined three-chorus collaborative solo between the two trumpeters on the famous ''Singin' the Blues.'' You know the sound of love when you hear it; love suffused these moments, and the balance was struck between scholarship and passion.


For the last 15 years, Dick Hyman has been presenting, at the 92nd Street Y in New York City, a concert series entitled "Jazz in July". As part of the series, he presented, on July 18, 1996, the show "If Bix Played Gershwin".
The participants were a "who's who" of current musicians who are active in the traditional jazz idiom. Dick Hyman was the arranger and conductor and played piano as well. Dick Sudhalter was the commentator. The musicians for the "Gang" and "Bix-Tram-Lang" approaches were: Tom Pletcher, cornet; Dan Levinson, clarinet and C Melody sax; Dan Barrett, trombone; Vince Giordano, bass sax; Cynthia Sayer, banjo; Arnie Kinsella, drums; Dick Hyman, piano. An augmented band for some of the numbers included, in addition to the above-mentioned musicians, Chuck Wilson (alto sax), Peter Ecklund (cornet) and another alto player. In addition, the Manhattan Rhythm Kins were also presented.
I copy below, verbatim, the script that Dick Hyman kindly sent me.

July 18, 1996, IF BIX PLAYED GERSHWIN

3 trump, trom, 3 saxes, guit, drums, string bass/bass sax, piano. Big band revealed as curtain opens. Use grand piano only. Lid off.

Dick introduces evening and first number.

1. CLEMENTINE FROM NEW ORLEANS ( Pletcher takes solo)

2. S'WONDERFUL as DH talks, Levinson, Barrett move down stage in front of
piano. 4 music stands. Giordano and Kinsella stay in place. Introduce Tom
Pletcher. The 6 piece ("Gang") band plays. The remainder of big band leaves
stage.

3. S'WONDERFUL

4. I GOT PLENTY O' NUTTIN'

5. Levinson, Barrett leave. A duet, cornet & piano:

HE LOVES AND SHE LOVES

6. Cynthia joins on guitar, Levinson on C-melody sax. Pletcher leaves.

Trio (piano, sax, guitar) plays SWEET AND LOWDOWN

7, 8, 9. Cynthia Sayer solo spot at front, seated, vocal & guitar.
She sings: LOOKING FOR A BOY. In second chorus, Peter Ecklund enters,
makes it a duet. She continues singing MAN I LOVE. John Frosk enters, joins
Ecklund. Tempo turns fast as Barrett, Levinson, Vince (bringing bass sax
donwnstage) join. Kinsella remains in place. At end of MAN I LOVE, applause,
and all leave stage except Cynthia, who songs GILTED. On her final note,
Ecklund plays a brief coda from off stage. Blackout.

10. Pletcher, Barrett, Levinson downstage; Giordano, Kinsella in place.

OH, LADY BE GOOD

11. Big band in place + introduce Manhattan Rhythm Kings:

BIDIN" MY TIME (Pletcher has solos)

INTERMISSION

1. Big band: RIALTO RIPPLES

2. Piano only: IN A MIST/SUMMERTIME

3. Piano & cornet only: Pletcher & Hyman play:

EMBRACEABLE YOU

4. Add Levinson, Barrett, in front; Giordano, Kinsella in rear: (The Gang)

I GOT RHYTHM

5. Trio: Levinson, Hyman, Sayre who sings: I'VE GOT A CRUSH ON YOU

6. Gang again: SOMEBODY LOVES ME

7. FASCINATING RHYTHM

8. SUNNY DISPOSIH

9. Big band + Manhattan Rhythm Kings: NICE WORK IF YOU CAN GET IT

10. SLAP THAT BASS (includes dance)

I am indebted to Dick Hyman for his generosity in providing me with information on the concert, and for a copy of the script for the show. I wish I had been there!

Bix: The Romance and the Reality.
Roy Oakshott, a producer for The British Broadcasting Corporation, commissioned Campbell Burnap to research, write, and present the series "Bix: The Romance and the Reality". The series consisted of six 30-minute programs. They were broadcast weekly on BBC Radio 2 beginning in January 2000. Campbell Burnap is a trombonist, jazz critic and writer, and has a two-hour weekly jazz program on a London commercial radio station, Jazz- FM 102.2.
The program consists of a blend of music, narrative, and interviews with musicians who knew Bix. Some excerpts from James Robert Grover's Miami University 1971 Radio Program "Bix" were used, as were some sections of Brigitte Berman's video documentary "Bix: Ain't' None Played Like Him Yet." There are new interviews of Tom Pletcher, Richard M. Sudhlater and the English playwright Alan Plater. Some of the letters that Bix wrote are also read in the program.
The program is very well organized. The narrative is informative and provides a good account of Bix's life and music. Often, programs (radio or TV) devoted to a musician spend a lot of time on the life of the musician at the expense of the music. "Bix: The Romance and the Reality" strikes an excellent balance: both biographical information and music have a major role in the series, and this, in my opinion, is as it should be. In a total of three hours, Campbell Burnap manages to go in fair depth through the various phases of Bix's life and of his music. In addition, the story of Bix is nicely placed in the context of "The Jazz Age".
Overall, this is an excellent series that provides a concise, but in depth, introduction to the life and music of Bix Beiderbecke. I hope that National Public Radio could rebroadcast the program.

I am indebted to Rich Johnson for alerting me about the existence of the BBC program and for information about it. I am grateful to Campbell Burnap for his generosity in providing me with information about the program and for a copy of the program.

The Carnegie Hall Concert
On April 3, 1975 the New York Jazz Repertory Company organized a concert as a tribute to Bix Beiderbecke. I copy below the entire program, verbatim.

*************************************************************
Carnegie Hall
1974-75 Season New York

Thursday Evening
April 3, 1975

THE NEW YORK JAZZ REPERTORY COMPANY
Second Season/1975-75 [sic]

BOB WILBER, Musical Director
Dave Hutson, directing original Jean Goldkette Orchestra
Jimmy McPartland, Joe Venutti, Guest Soloists
Featuring Members of the original Jean Goldkette Orchestra:
Speigle Willcox and Bill Rank, Trombones
Paul Mertz, Piano
Chauncey Morehouse, Drums
Richard M. Sudhalter, Narration

THE MUSIC OF BIX BEIDERBECKE

TRUMPETS Doc Cheatham, Pee Wee Irwin, Bernie Privin, Warren Vache

TROMBONE Eph Resnick

SAXOPHONES Kenny Davern, Johnny Mince

TUBA Howard Johnson

PIANO Dill Jones

BASS Milt Hinton

DRUMS Bob Rosengarden

GUITAR Bucky Pizzarelli


The New York Jazz Repertory Company is a tax exempt not-for-profit corporation partially funded by the New York State Council on the Arts, The Carnegie Hall Corporation in association with the Department of Cultural Affairs of the City of New York, and the National Endowment for the Arts.
BOARD OF DIRECTORS; Hon. Robert F. Wagner, Chairman; Julius Bloom; Stanley Dance; Ahmet Ertegun; Kenneth D. Glancy; John Hammond; Elliot L. Hoffman; Bruce Lundvall; Charles K. McWhorter; Joe Newman; Mary Burke Nicholas; Jimmy Owens; Billy Taylor; George Wein; Jery Wexler; Bob Wilber.
GEORGE T. WEIN, Executive Director; MARI JO JOHNSON, Administrative Director.





THE MUSIC OF BIX BEIDERBECKE

IN A MIST - composer; Bix Beiderbecke - played by Paul Mertz

Bix's piano pieces have been played by everyone from Dill Jones to
Bucky Pizzarelli. "In A Mist" was once played right here in Carnegie
Hall as part of Paul Whiteman's Concert of October 7th, 1928.

FIDGETY FEET - composers; Nick LaRocca & Larry Shields

The original title of this piece was "War Cloud." Bix recorded it
with The Wolverines in 1924, his first recorded work.

TIA JUANA -composers; Gene Rodemich and Larry Conley

Composed by the popular dance band leader Gene Rodemich and
his trombonist, Bix and the Wolverines made this one in 1924.

BIG BOY - composers; Milton Ager and Jack Yellen

To celebrate this, his last recording with the Wolverines, Bix
layed piano on this side as well as cornet.

DAVENPORT BLUES - composer: Bix Beiderbecke

Recorde by Bix and His Rhythm Jugglers (mostly Goldkette sidemen)
in 1925. Bix wrote the tune but Tommy Dorsey named it.

AT THE JAZZ BAND BALL - composers, Nick LaRocca and Larry Shields

Another Original Dixieland Jazz Band piece recorded by Bix and
Tram in 1927.

ROYAL GARDEN BLUES - composers; Clarence Williams and Spencer Williams

Bix recorded this in 1924 with the Wolverines and in 1927 with
Trumbauer. The Royal Gardens was one of the clubs in Chicago
where King Joe Oliver's Creole band played.

GOOSE PIMPLES - composers; Fletcher Henderson and Jo Trent

First published as a piano solo this tune provided maerial for
another 1927 classic recording by Bix and His Gang.

SINCE MY BEST GAL TURNED ME DOWN -composers Ray Lodwig & Howdy Quicksell

This tune by trumpeter Lodwig and banjoist Quicksell from the
Goldkette Band was recorded in Quicksell's arrangement by
Bix and His Gang in 1927.

INTERMISSION

THE JEAN GOLDKETTE ORCHESTRA DIRECTED BY DAVE HUTSON
MY PRETTY GIRL - composer; Charles Fulcher

reorded by the composer, fulcher, and his Atlanta based band
in 1925, two years before Bix and the Goldkette band waxed
this head arrangement for Victor.

SUNDAY - composers; Ned Miller, Chester Cohn, Jules Stein & Bennie Krueger

The original arrangement by Bill Challis included a vocal
by the Keller Sisters and Lynch.

I'M GONNA MEET MY SWEETIE NOW - composers; Jessie Greer and Benny Davis

A Bill Challis arrangement recorded by Goldkette in 1927

SINGIN' THE BLUES - composers; Con Conrad; J. Russell Robinson, Sam

Lewis and Joe Young. After the 1927 recording this tune belonged
to Bix and Tram forever.

I'M COMIN VIRGINIA -composers; Donald Heywood and Will Marion Cook

This tune from the show "Africana" was recorded by Bix and Tram
in 1927. The arrangement was by Irving Riskin.

WAY DOWN YONDER IN NEW ORLEANS - composers; Turner Layton and Henry Cramer

This 1922 tune form the show, "The Spice of Life" was recorded
by Bix and Tram in 1927 in an arrangement by Don Murray.

CLARINET MARMALADE -composers: Larry Shields & Henry Ragas

A little jelly cooked up by two memebers of the O.D.J.B.
A good tune for jamming. Bix and Tram cut this side in 1927
with Jimmy Dorsey on clarinet and including Bill Rank, Paul
Mertz and Chauncey Morehouse among others.

CLEMENTINE FROM NEW ORLEANS -composers; Turner Layton & Henry Cramer

Another 1927 head arrangement recorded by Bix with Goldkette

Program Notes by Joe H. Klee
New York Correspondent, The Mississippi Rag


A copy of the program was kindly supplied by Ed Mazar; I thank him very much.

A scan of the first page with signatures form Mertz, Venuti and McPartland follows below.
I point out a few errors. Spiegle and Venuti were misspelled. At the Jazz band Ball was recorded by Bix and His Gang. The 1927 recording of Royal Garden Blues is by Bix and His Gang.

An Advertisement for the Carnegie Hall Concert.

REPERTORY COMPANY
CONCERTS AT CARNEGIE HALL

The Music of
BIX BEIDERBECKE
Special Guests:
Bill Challis, Paul Mertz, Bill Rank
Joe Venuti & Speigan* Wilcox**
Thurs., April 3 8pm

Photo of Bix

The NYJRC will present a history making
event. Bill Challis, the arranger of the
original Jean Goldkette Orchestra, with
which Bix was featured, will be the
guest musical director of this concert.
Joining Challis will be many of the
original members of the 1926 Goldkette
band including: violinist Joe Venuti,
trombonist Bill Rank and Spegan Wil-
cox and pianist Paul Mertz.

On the same program under the musical
direction of Bob Wilber, the NYJRC will
recreate the Wolverines, with whom Bix
Beiderbecke starred when he was 20
years old. Beiderbecke's originality on
cornet and piano influenced many jazz
musicians, among them trumpeteers
Bobby Hackett and Jimmy McPartland.
Bix's piano compositions were in part
inspired by Debussy harmonic ideas.

The April 3 program will include:
Candlelight Suite, I'm Comin' Virginia,
Singing the Blues, Blue Room, On the
Alamo, Clarinet Marmalade, Clemen-
tine, My Pretty Girl, and Riverboat
Shuffle.

Among those performing are: Doc
Cheatham, Kevin Davern, Milt Hinton,
Dick Hyman, Yank Lawson, Jimmy
McPartland, Marion McPartland, Paul
Mertz, Johnny Mince, Bucky Pizzarelli,
Bernie Previn, Bill Rank, Eph Resnick,
Bobby Rosengarten, Warren Vache, Joe
Venuti, Bob Wilber, and Spegan Wilcox.

*Correct spelling: Spiegle
**Correct spelling: Willcox
Note that some of the names in the ad are not included in the program and vice versa.

Another Advertisement



Reviews of Concert.

Daily News, April 5, 1975.
Once More, with feeling, it's Bix.
Bix Beiderbecke was a highly influential jazz cornetist who died in 1931 at the age of 28, leaving some highly lyrical, purely personal music and the reputation of being probably the first true jazz legend (his life was supposed to be the basis of the novel, "Young Man With a Horn").
The legend surfaced in a big way Thursday night at Carnegie Hall, when the New York Jazz repertory Company put on a special concert of Biederbecke's (sic) music.
Musically, it was an outstanding evening, by far the most successful the Jazz Rep has had, and by far the most enthusiastically received. Bix's small group (the Wolverines) was recreated for the occasion by Bob Wilber and five members of another Biederbecke (sic) ensemble were on hand.
One can only hope that George Wein, one the Jazz Rep's directors, will be moved to include this piece as part of the Newport Jazz Festival. It deserves a rehearing.
Patricia O' Haire

New York Times, April 5, 1975.
A WARM SALUTE FOR BEIDERBEKE
20'S Jazz Veterans Join in a Recreation of His Music
by JOHN S. WILSON
A glimpse of living history and crisp recreations of some classic jazz performances created a warm, sentimental glow that made the New York Jazz Repertory Company's presentation of the music of Bix Beiderbecke at Carnegie Hall on Thursday evening unusually affecting.
The music was drawn from recordings made by the celebrated jazz cornetist with small groups throughout the nineteen-twenties and with Jean Goldkette's orchestra in 1927. The recreated small groups included the Wolverines, with Jimmy McPartland, who replaced Beiderbecke in that band, on hand to take the Beiderbecke solos.
The 1975 version of the Goldkette's orchestra, playing arrangements transcribed and conducted by Dave Hutson, included five men who were reproducing the roles they played with Goldkette almost 50 years ago-Bill Rank and Spiegle Wilcox (sic), trombonists; Paul Mertz, pianist; Chauncey Morehouse, drummer, and Joe Venuti, violinist, the only one of the five who still carries on an active musical career.
All these veteran musicians were in fine fettle, playing solos with a style and vigor that belied their white hair, although one must except Mr. Venuti, who has virtually no hair. He is playing now even better than he did then, if that is possible.
But while these old-timers lent an unusual touch of authenticity to the performances, it was the younger players, adapting sensitively to the period style, who gave the music its essential qualities. Kenny Davern restled in a masterly way with a huge bass saxophone, Johnny Mince and Bob Wilber caught the appropriate clarinet mannerisms, and a stream of trumpeters and cornetists picked up the Beiderbecke role from time to time -notably Bernie Privin on "Singin' the Blues", Warren Vache, a young cornetist who rolled through the Beidebecke phrases with disarming ease, and Dick Sudhalter, author of a biography of Beiderbecke, "Bix: Mand and Legend," who also served as narrator for the program.

I am indebted to Rich Johnson for sending me the copies of the ads and the reviews.

Photograph of Band Playing at the Concert.




I am indebted to Friedrich Hachenberg for sending me a scan of the photograph.

I am indebted to Friedrich Hachenberg for sending me a scan of the program.
The Blue Four Rehearsing for the Concert.
Joe Venuti, violin; Bucky Pizzarelli, guitar; Vince Giordano, bass saxophone; Zoot Sims, tenor saxophone. Spiegle Willcox observing.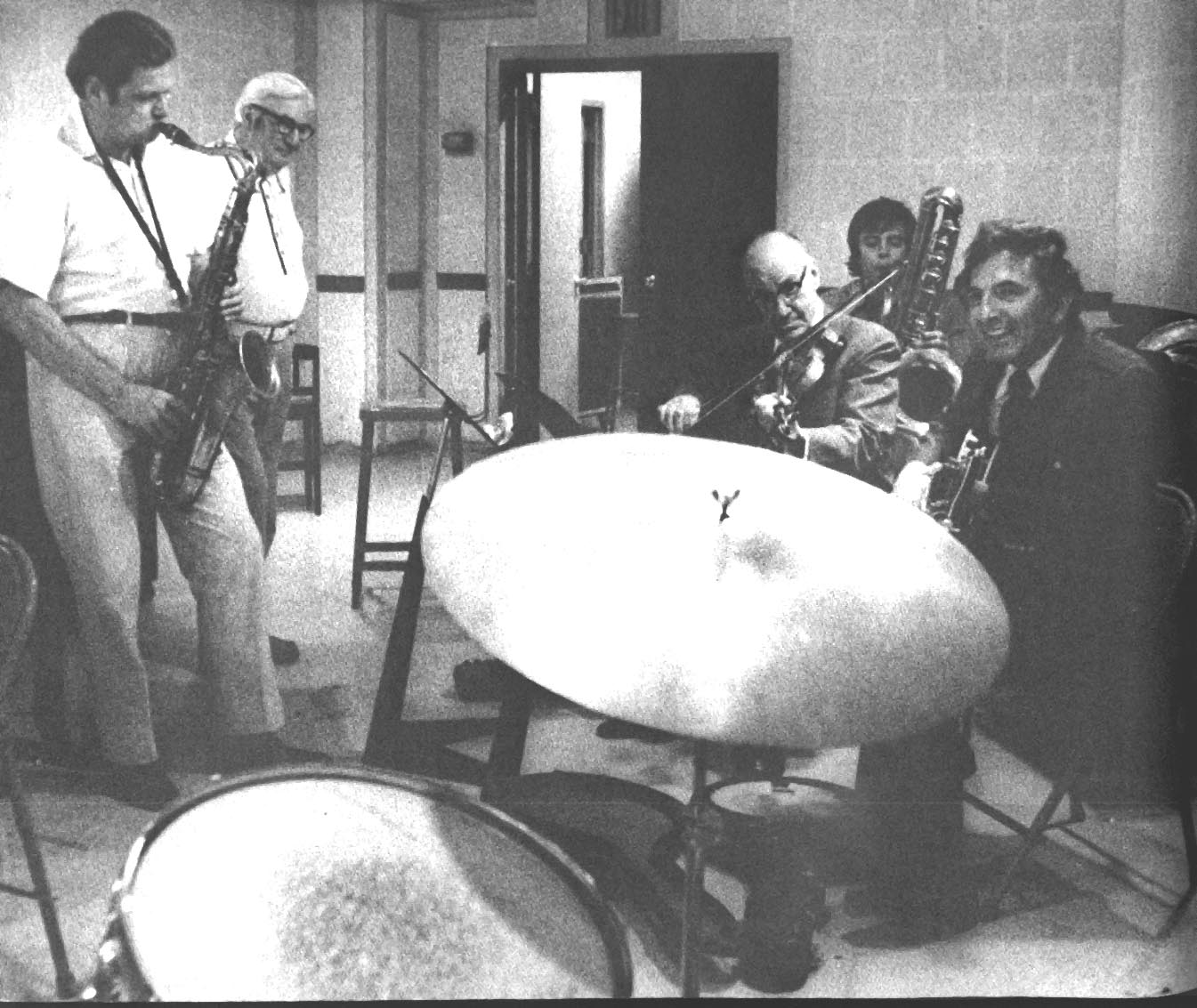 However Bernie Privin did manage to tour Europe that year with the 'ghost' Tommy Dorsey band (Dorsey had died in 1956) and in 1975 visited Russia that year with the remarkably successful New York Jazz Repertory Company where he interpreted Armstrong's music along with the ex-Count Basie trumpeter Joe Newman.

"new york jazz repertory company" search google
To Bix Or Not To Bix?

This is the title of a TV program broadcast by France's Antenne 2 Television channel on October 21, 1976. The Telecast lasted about one hour and 45 minutes and was broadcast on prime time. The film was the creation of Jean-Christophe Averty, a well-known (in France) jazz personality, TV director, radio host, and record producer. I gather that the program was a docudrama with quite a bit of fiction thrown in. [Will they ever learn?] Various actors (including real musicans) played the roles of Bix and the other characters in the program. From "Telerama", a French TV guide, and from Eric I gathered the following information.
Leon Bix Beiderbecke: Patrick Artero
Frank Trumbauer: Gérard Badini
Dick Voynow: Claude Bolling*
Bing Crosby: James Sparrow
Jimmy Hartwell: Claude Luter
Emmet Ardy [sic]: Irakli
Paul Whiteman: Roger Trapp
Pee Wee Russell: Christian Morin
Hoagy Carmichael: Yannick Singery
Lucky Fortunia: France Dougnac
Mezz Mezzrow: Pierre Atlan
Gennet [sic], record producer: Bernard Cara
Holbrock [piano teacher]: Germaine Delba
A Musician: Andre Villeger
The announcement of the program in Telerama only gives information about the actors, but not about the program. The liners, written by French jazz critic Jean Wagner, provide a litttle bit of biographical information about Bix and a lot of rationalization about Bix's alcohol addiction and "frustration." The soundtrack included live performances by the musicians-actors and original recordings from Bix. Eric gave me the following information about the musicians.

- Jean-Christophe Averty is an important name in French television, although he no longer works on TV. He is also a radio host, record producer, humorist. He is a walking encyclopedia of old jazz and of the French popular song before world war two.
- Patrick Artero is a real jazz trumpeteer. He was a member of the "Anachronic Jazz Band." He is still active.
- Claude Luter plays clarinet in the traditional style. He is very well known in France. He accompanied Sidney Bechet during the 1950s. Claude Luter with his group "Les Lorientais" was an important musician during the exsitentialist phase in the Quartier Latin and played in the clubs on the Boulevard Saint-Germain-des-Prés. In spite of his age (he started playing professionaly in the mid 1940s), he remains active.
- Irakli is a traditional jazz trumpeteer. He is quite active currently and has made a reputation by his ability to imitate Louis Armstrong's style.
- Gérard Badini plays saxophone and clarinet in the traditional as well as more modern style. He is quite active. He has led several bands, namely "The Gérard Badini Swing Machine" (the band included for a time Sam Woodyard, ex-drummer with Duke Ellington) and the "Super Swing Machine."
- Claude Bolling is a jazz pianist, orchestra leader, music composer for the cinema. Bolling has recorded several jazz albums. He has also recorded with classical musicians such as Jean-Pierre Rampal, Yo-Yo Ma, and Alexandre Lagoya,. Bolling is still very active.*
- Christian Morin is a jazz clarinet player. Currently he is well known as a host of TV games.
- André Villeger plays saxophone in traditional and modern styles.

* Claude Bolling composed the soundtrack for the film "Borsalino", a great film that takes place in the South of France during the 1920s. The soundtrack is mostly jazz in the traditional style, but also includes some tangos. It is one of my all-time favorite movie soundtracks.

The March 1975 issue of "Hot Jazz" includes a "roman photo", freely translated as a "story in pictures." Basically, we have a series of stills from the film with captions that explain the scene in question.
Here are the images and my translation of the captions. I apologize for the poor quality of the images. Unfortunately, the original photographs in the magazine were of low quality. The title of the "roman photo" is in error. It is not "To Bix Or Not To Be" but "To Bix Or Not To Bix."
To see images 1-12 click here. To see images 13-24, click here. Be patient while the images download.

1. No caption.
2. Pilgrimage of Bix Beiderbecke's friends to Davenport (January 1932): Pee Wee Russell, Frankie Trumbauer and Hoagy Carmichael, shown in the still with Miss Holbrook, piano teacher who tells the story of Bix's childhood. [Ed: Priscilla Holbrook gave some piano lessons to an adult Bix, at the end of 1923].
3. Bix as a child fascinated by a riverboat going by.
4. The riverboat St. Paul of the Stretfus [sic] line as young Bix (1914) would see it; the Fate Marable ragtime orchestra was on board.
5. A 13-year old Bix listens to the first records of the Original Dixieland Jazz Band and tries to play trumpet (1917). [Ed. Bix was fourteen when the ODJB records were issued]
6. 1920. First engagement with the Carlisle Evans Orchestra. [Ed. Bix was not engaged by the Evans orchestra. He may have sat with them in 1921]
7. 1923. Bix joins the Wolverines, Dick Voynow-led orchestra...
8. ... that plays mainly in university campuses of the Midwest.
9. No caption.
10. During the Wolverine tours, Bix meets Hoagy.
11. The Wolverines record their first records (1924). Contemporary document. [Ed. famous photograph of the Wolverines in the Gennett recording studio.]
12. J. V. Averty's reconstruction of preceding document.
13. In the Fall of 1924 go to New York and practice in their hotel room in preparation for their appearance in the Cinderella Ballroom ...
14. ... where many musicians come to listen to Bix Beiderbecke.
15. Bix is hired by Jean Goldkettte, the leader of one of the best orchestras in the land.
16. While the orchestra is in Chicago, Bix goes to the Elite Cafe to listen to Bessie Smith.
17. No caption.
18. When the Goldkette Orchestra dissolves, Bix joins the Paul Whiteman Orchestra (1927).
19. Because of an illness, Bix cannot participate in the filming of the King of Jazz (1930).
20. Bix meets Fortunia. [Ed. There is no woman named Fortunia in Bix's life.]
21. Fortunia tells him how much she admires his piano recording of "In A Mist."
22. Bix records with Hoagy Carmichael in New York (May 1930).
23. No caption.
24. Bix Beiderbecke dies in August 1931 and is buried in Davenport.

I am indebted to Eric Min-Tung and Jean-Pierre Lion for generously sending me information about "To Bix Or Not To Bix."

Salute to Bix
The "Internationales Jazzfestival Bern" has taken place every year since 1976. The 1993 festival featured a Salute to Bix perfomed by Randy Sandke's New York Allstars. The musicians in the band were Randy Sandke (tp), Dan Barrett (tb), Ken Peplowski (cl), Scott Robinson (sax), Mark Shane (p), Marty Grosz (g), Linc Milliman (b) and Dave Ratajczak (dr).

The band played an all-Bix tunes concert. The songs chosen came for all periods of Bix's career. "Tiajuana" form the Wolverine days; "My Pretty Girl" from Bix's tenure with Goldkette. There were several Whiteman tunes, "China Boy," "There Ain't No Man That's Worth the Salt of My Tears," "Because My Baby Don't Mean Maybe Now." There were a couple of Bix and His Gang tunes, "Sorry" and "At the Jazz Band Ball," and a couple of Tram tunes, "Wait 'till You See My Cherie" and "Riverboat Shuffle." At times, the New York Allstars played note for note the arrangements from Bix's recordings with Randy taking Bix's part. At other times they presented their own interpretations and improvisations. For example, Singin' the Blues/I'm Coming Virginia were excellent note for note interpretations of the two Bix classics (as Randy said, "I can't improve on what Bix did"). On the other hand, the band presented its own version of "I'll Be A Friend With Pleasure" : it was a stirring and beautiful interpretation, including a very interesting chase chorus by three trumpets. Mark Shane played a piano solo of "In A Mist." There were two numbers by Marty Gosz alone. "Changes" had an excellent vocal and a great guitar accompaniment. "Mississippi Mud" was a humorous rendition, Marty making use of his German background. Candlelights was arranged by Randy for orchestra: it was a haunting, profound interpretation.

All in all, an excellent and moving "Salute" to the great Bix Beiderbecke.

I am indebted to Randy Sandke for his kind and geneorus gift of a video recording of the "Salute to Bix."

Through His Music, Bix Is Alive
Return to the top
Return to home page
Return to Detailed Table of Contents
BRIEF TABLE OF CONTENTS
Recordings
The Original 78's
Analysis of Some Recordings: Is It Bix or Not ?
Complete Compilations of Bix's Recordings
Tributes to Bix
Miscellaneous Recordings Related to Bix
In A Mist